Prototype presentation
Posted on November 18, 2017
Advanced Practices in Video, Performance and Electronic Arts
The prototype presentation to my fellow classmates was due this week. Unfortunately, there were still incomplete hardware parts. Because of how busy the Concordia DigiFab Lab is, I was only able to get an appointment the same day as the presentation.
Last week, I went to EchoFab to cut a box for the ZX Sensor, but due to miscalculations, what I did then was unusable. Barely an hour or two before my presentation, I still had wires dangling all around!
Once the box was built though, it looked way better than than the metal enclosure I wanted to use for the Sound Pez v.2. What's neat is that the sensor box can now be reused in a other contexts.
Presentation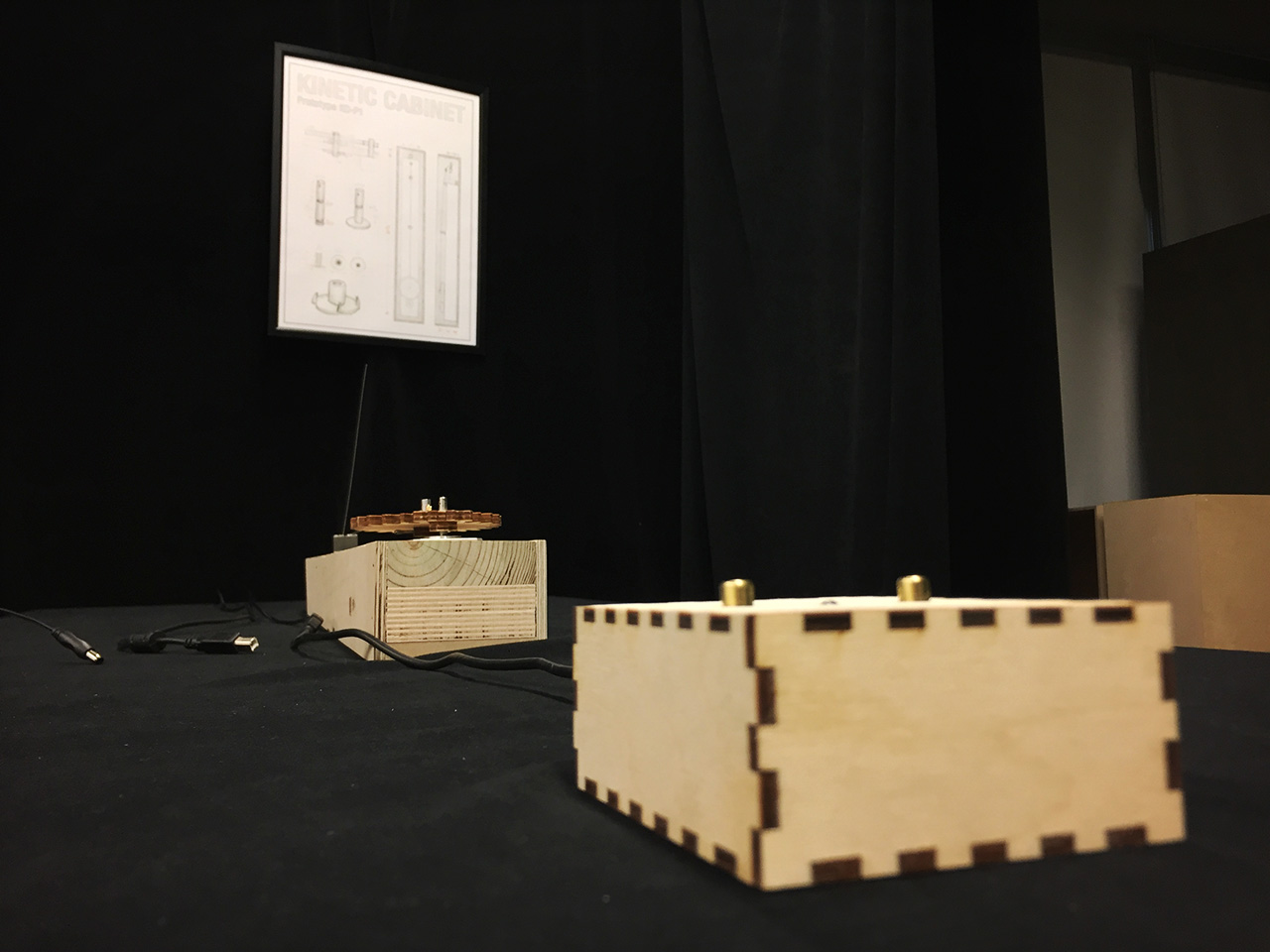 And so came the presentation itself. As I discussed with Amanda and Ana a few weeks earlier, a science-fair-like presentation could be appropriate. I borrowed a few black curtains from the TML, and hung up a poster of the sketches I did during production. I wish I could have hidden the cables and the computer better.
© Photos by Ana Carolina von Hertwig
Classmates huddled around the prototype trying to figure out what it is and how it works. Originally, I planned to present how to interact with it, but I ended up preferring to be silent and let people figure it out themselves.
© Photos by Ana Carolina von Hertwig
I only issued comments related to safety—the string could break and poke someone's eye out—or to the integrity of the piece—some people tried to push in the IR sensor as buttons, and the 1/8″ plywood is not strong enough to sustain that.
The presentations all went the same way: we were given few minutes to investigate the artwork. Then, we all sat down and describe the artwork formally. Afterwards, we analyzed meaning or affect. Finally, we commented and suggested potential improvements.
I was a bit surprised by the fact that some people mentioned that there seemed to be a theme of a magician's presentation in my piece. Now I guess I can see that: I chose to hide the functionality of the piece. Gestures—not touch—triggered reactions. Some people said they were creeped out by the fact that I was dressed up and looking at them interacting.
Overall, I am quite satisfied with my presentation. As this is a prototype, I made the interaction quite obvious, however for the final version, I intend to obscure it a bit, and making the piece's reaction a bit more cryptic. I'll most probably encase all computing devices (Arduini, Raspberry Pis, etc.) inside the piece.
---